This is one of those soups that I have had pinned for a while because I was immediately drawn to the combination of ingredients and flavors when I saw it on Real Simple's email. It contains some of my favorite ingredients--salmon, leeks, fennel, dill, turmeric, and pearl couscous. I liked the sound of the recipe so much, I didn't even bother to make any changes.
Real Simple says, "
Israeli couscous (a.k.a. pearl couscous) is really a tiny, toasted pasta, and when tossed raw into soups, it cooks in 10 minutes flat. The small pearls add depth to this one-pot recipe, and the starch they release gives the broth a velvety texture. Turmeric, a relative of ginger (and typically found in curries), has a pungent, peppery flavor, and adds earthiness to the soup as well. To speed up prep, buy skinless salmon—and be sure to buy fillets that have a fairly even thickness, so that they cook evenly. If you're not a fan of salmon, try shrimp."
Vegetable Soup with Pearl Couscous and Salmon
Recipe from Adam Hickman via RealSimple.com
(Serves 4)

2 Tbsp olive oil
1 medium leek, white part only, thinly sliced
1 small bulb fennel, sliced
3 garlic cloves, sliced
1/2 tsp kosher salt
1/4 tsp ground turmeric
4 cups vegetable broth
1/2 cup pearl couscous
16 oz skinless salmon fillets
1 cup halved cherry tomatoes
3 Tbsp chopped fresh dill
Heat the oil in a large saucepan over medium-high.
Add the leek and fennel and cook, stirring occasionally, until lightly browned, 4 to 5 minutes. Add the garlic, salt, and turmeric and cook, stirring, 1 minute. Add the broth and bring to a boil.
Add the couscous; reduce heat to medium-low and simmer, 5 minutes. Add the salmon and tomatoes and cook, stirring gently, until the salmon is cooked through, 8 to 10 minutes.
Break the salmon into pieces and serve the soup topped with the dill.
Notes/Results:
A soup that goes together quickly and has great flavor from the garlic, salmon, and turmeric. It is also light but satisfying with the salmon and pasta. The sweetness of the cherry tomatoes and leeks work well with the richness of the salmon and the herby flavor of the dill and fennel. I also liked that the salmon is broken into chunks after cooking--it gives the soup a rustic feel. I really like this one, it is simple to make and looks bright and pretty in the bowl. I would happily make it again.
We have some tasty dishes waiting in the Souper Sundays kitchen this week, let's have a look!
Debra of Eliot's Eats has a soup and sandwich combo and another soup to share this week. First up are her movie-inspired Celery Soup and Egg Salad Sandwiches. She says, "
Guess Who's Coming to Dinner is not typically a foodie film; however, there were a few food references. ... If it had been summer, I would so have tried to make one of those ice cream concoctions. Instead I decided to make soup and sandwiches.
... The egg salad was delicious. If there had not been so much dill in the soup, I would have swapped out the parsley in the salad recipe and used dill. I will certainly do that next time."
Debra's second entry is this Coconut Corn Chowder with Red Pepper. She says, "
This recipe is sooooo easy and delicious. If you have all the ingredients chopped and prepped, it literally comes together in a jiff. I doubled this recipe for a recent potluck, a potluck that was not necessarily vegan or vegetarian. ... The verdict?
No one complained at all or missed the meat."
Amber of The Hungry Mountaineer shared Philly Cheesesteak Soup and said, "
In my hometown across the ocean to the east it's winter today. My friends and family awoke to frosty roads and the promise of snow.
It is winter, even though I'm this close to putting on a bathing suit and enjoying this eighty-degree morning so here is a recipe for some ridiculous delicious soup, perfect for a cold and chilly winters morning."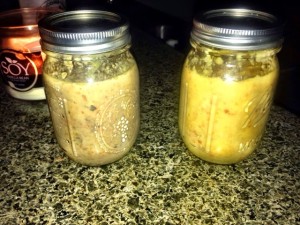 Judee of Gluten Free A-Z Blog brought Spicy Sweet Potato Soup and said, "
You can make this spicy sweet potato soup in just minutes. Serve topped with a drizzle of full bodied coconut milk and some diced avocado and you have a company worthy bowl of soup that is colorful and healthier than you may think. I am notorious for making fast and easy vegan soups. This wonderful soup is no exception and of course is naturally gluten free!"
Finally here at Kahakai Kitchen, I enjoyed a combination of Creamy Tomato Soup, paired with my adaptation of Giada De Laurentiis's Grilled Cheese with Spinach. The pairing was excellent and the spinach grilled cheese was full of flavor and ooey-gooey cheesy spinach goodness.
Thanks to everyone who joined me this week at Souper Sundays!
About Souper Sundays:
Souper Sundays is back with a new format of a picture link each week where anyone interested can post their soups, salads, or sandwiches any time during the week and I post a recap of th

e

entries the following week.)
(If you ar

en'

t familiar with Souper Sundays, you can read about of the origins of it here.
If you would like to join in Souper (Soup, Salad, and Sammie) Sundays, I would love to have you

!
Here's

how...
To

j

oin in this week's Souper Sunday's linkup with

your

soup, salad or sandwich:
Link up your soup (stew, chili, soupy curries, etc. are fine), salad, or sandwich dish, (preferably one from the current week or month

--

but we'll take older posts too) on the picture link below and leave a comment on this post

so I am sure not to miss you

. Also please see below for what to do on the post you link up to be included.
and
On your entry post (on your blog):
Mention Souper

(Soup, Salad & Sammies)

Sundays at Kahakai Kitchen and link back to this post. (Not to be a pain but it's polite and only fair to link back to events you link up at--so if you link a post up here without linking back on your post, it will be removed.)

You are welcome to add the

Souper Sundays logo to your post and/or blog (

optional

).
Note: If you are reading this post anywhere other than on this blog--Kahakai Kitchen, the content has been stolen--taken and used without my permission. It is very frustrating, when people steal your hard work--writing and photos, and put it on their blog like it is their own--when it is not. I am currently taking steps with the server that hosts the site that has been scraping my blog feed and stealing my work to both to get all of my work removed from that site and to deal with the troll who is stealing it (and also stealing material from other blogs). I am also hoping that karma will come around and bite them where it hurts.
As noted in two places on the sidebar:
All Material on This Blog is Copyright Protected. (Stealing is Bad Karma!)
Have a happy, healthy (and blog post theft and troll-free) week!