I am excited to be the final stop on the TLC Book Tour for the World War II novel, The Song of the Jade Lily by Kirsty Manning. Accompanying my review are some pretty Tea-Soaked Eggs, inspired by my reading.
Publisher's Blurb:
A gripping historical novel that tells the little-known story of Jewish refugees who fled to Shanghai during WWII.
1939: Two young girls meet in Shanghai, also known as the "Paris of the East". Beautiful local Li and Jewish refugee Romy form a fierce friendship, but the deepening shadows of World War II fall over the women as they slip between the city's glamorous French Concession district and the teeming streets of the Shanghai Ghetto. Yet soon the realities of war prove to be too much for these close friends as they are torn apart.
2016: Fleeing London with a broken heart, Alexandra returns to Australia to be with her grandparents, Romy and Wilhelm. Her grandfather is dying, and over the coming weeks Romy and Wilhelm begin to reveal the family mysteries they have kept secret for more than half a century. As fragments of her mother's history finally become clear, Alexandra struggles with what she learns while more is also revealed about her grandmother's own past in Shanghai.
After Wilhelm dies, Alexandra flies to Shanghai, determined to trace her grandparents' past. Peeling back the layers of their hidden lives, she is forced to question what she knows about her family—and herself.
The Song of the Jade Lily is a lush, provocative, and beautiful story of friendship, motherhood, the price of love, and the power of hardship and courage that can shape us all.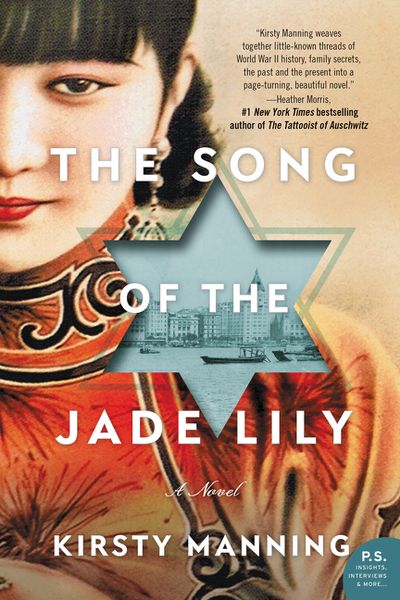 Hardcover: 480 pages
Publisher: William Morrow (May 14, 2019)
My Review:
Someday I will count up the number of World War II novels I have reviewed on this blog, or even books I have just read, without doing a book tour review. It is a time in history that interests me, particularly when author's explore the war from a different perspective or teach me something new. The Song of the Jade Lily does both as it looks at the war mostly from the point of view of Romy Bernfeld, a young Jewish girl from Vienna who flees Vienna to Shanghai with her parents in 1938. I didn't know that much about Shanghai during the war and just how many European Jewish refugees (over 20,000) they took in during the war. Romy's family does not escape unscathed, one of her older brothers is killed while trying to defend a neighbor from the Germans and her other brother is shipped off to the Dachau concentration camp. On the journey to Shanghai, Romy befriends Nina, a girl her age with her own tragic losses, and later in Shanghai, Romy and her family become friends with their neighbors, the Ho family. Romy and Li Ho become fast friends, along with Li's brother Jian. The book alternates the war timeline with 2016, when Romy's granddaughter, Alexandra takes a job in Shanghai and uses the time to inquire about her past, as her late mother was adopted by Romy and her husband Wilhelm, right after the war ended.
I was a little worried about being able to finish the book with the busy couple of weeks I was having and my limited reading time, but The Song of the Jade Lily was difficult for me to put down--I was completely caught up in the story and in the sights, sounds, and smells of Shanghai in wartime and in present day and wanted to dig in every chance I got. Kirsty Manning brings the pages to vivid life--the horrors or war and the power of love and friendship. Like most WWII novels, there is much sadness in the pages, but strength and resilience too. The afterward with the author's notes on the inspiration for the book as well as the list of resources she used to research her subject was interesting too. I hope to read more from her. If you like historical fiction, WWII stories, interwoven stories and time periods, strong female characters and different perspectives, add this one to your TBR list.
-----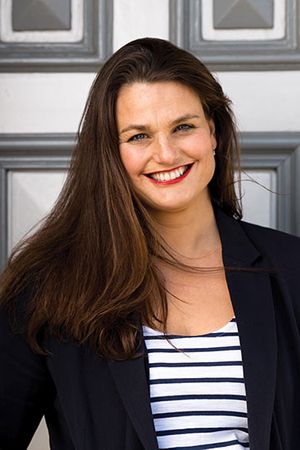 Author Notes: Kirsty Manning grew up in northern New South Wales, Australia. She has degrees in literature and communications and worked as an editor and publishing manager in book publishing for over a decade. A country girl with wanderlust, her travels and studies have taken her through most of Europe, the east, and west coasts of the United States as well as pockets of Asia. Kirsty's journalism and photography specializing in lifestyle and travel regularly appear in magazines, newspapers, and online. She lives in Australia.
Find out more about Kirsty at her website, and connect with her on Twitter, Instagram, and Facebook.
-----
Food Inspiration:
There was so much food in The Song of the Jade Lily that I think it almost classifies as a foodie book and it was a variety of mostly Jewish, German and Austrian and Chinese dishes. I will attempt to cover just some of the mentions here as I took a few pages of notes. Mentions included the scents of frying fish, cardamom, cinnamon and star anise, noodles, congee, champagne, whiskey, afternoon tea, coffee, hot chocolate piles high with cream, fried garlic and smoked paprika, a soup of black bean paste with crushed garlic, ginger, and chives, a garden with green beans, bay, thyme, Meyer lemon and lime trees, flowering garlic and chives, peas, tomato and purple and green basil, a pesto made from coriander, glugs of olive oil, almonds, garlic and lemons, bok choy, pumpkin and water chestnut risotto, sauteed lamb kidneys with orchid stems and shiitake mushrooms, coffee and plum jam liwanzen (fried yeast pancakes), chocolate cake, Semmelknodel (German bread) dumplings with roast chicken,homemade lemonade and ginger beer, Austrian rye bread and baked treats including a brotgewurz (a German bread spice mixture that included ground caraway, fennel, anise and coriander seed, plus Chinese allspice, celery seed and cardamom), mushroom dumplings, carrot cake, Black forest cake, apricot and apple strudels, scones with raspberry jam and double cream, persimmons, crepes with egg,leek, herbs and deep-fried pastry strips for crunch, Griessnockerlsuppe (chicken and semolina dumpling soup), macarons, basi pingguo (apple, deep-fried and coated in caramel and sesame seeds), tofu and eggplant salad, cones of toasted melon, pumpkin and sunflower seeds, pickled mango, cream cakes with raspberry jam on top, baba ghanoush and hummus, baled fish, couscous and beef brisket, hot pot, pink dragon fruit, lychee and guava, pea torte, spicy prawns with lily bulbs and almond, jasmine tea-soaked chicken, cinnamon buns, orange and poppyseed cake, mapo doufu, and lychee and ginger martinis.
For my book-inspired dish, I decided to make Tea-Soaked Eggs because I have been wanting to make them for a while now and I liked that they were Romy's favorites, and the description when Alexandra and Zhang go to breakfast:
"'What is that?' asked Alexandra as they passed a narrow alleyway crowded with people lining up behind bamboo steamers stacked like circular towers.
'That'--he pointed to a tiny hole-in-the-wall--'is breakfast.'
Alexandra eyed the dozens of boiled eggs floating in a dark broth and recognized one of Romy's favorite dishes. At home, Romy would boil a dozen eggs, then crack them gently on the counter before dropping them into a crockpot filled with black tea. She'd add orange rind, cinnamon, star anise, five spice, cardamom, and soy sauce, and leave the eggs to soak overnight. Alexandra had loved the aromas of all the spices floating through the house, especially in winter. The next morning, Romy would scoop the eggs out with a slotted spoon and peel them to reveal a beautiful marbled pattern, each one in a slightly different hue."
Recipe:
I basically followed the recipe above from the book, along with a glance at this Food52 article

for slow cooker timing. I decided to use some of my Lapsang Souchong tea to see what the smoky flavor did with the eggs. Since I didn't have orange rind on hand, I put a couple of pieces of lemon peel into the mix.
Notes/Results: I was expecting a more dramatic mosaic pattern on my eggs. Although I do find the shells quite vibrant and gorgeous, the eggs were lighter in color than I thought they would be. Also, although I took my eggs out of the fridge about 20 minutes before boiling and they were fairly fresh, most of the bottoms were flat. Oh well, the taste was better than they looked. I liked how the smoky flavor of the Lapsang Souchong I used combined with the aromatic spices and soy sauce. They are a little bit rubbery in texture, but the flavor made up for that. I would make them again.
I'm sharing this post with the Weekend Cooking event at Beth Fish Reads, a

weekly

event that is open to anyone who has any kind of food-related post to share. For more information, see the

welcome post

.
Note:
A review copy of "The Song of the Jade Lily" was provided to me by the author and the publisher, Harper Collins, via TLC Book Tours. I was not compensated for this review and as always, my thoughts and opinions are my own.
You can see the stops for the rest of this TLC Book Tour and what other reviewers thought about the book here.